Dunston (Ship Repairs) Limited provide a range of services

We provide our services at a fair price, within the shortest time period, to the highest quality standards, from a company that understands and cares for its customers and employees.

We can guarantee a speedy turn round from a very qualified and experienced workforce. Our dedicated, time served craftsmen will provide a 24 hour service to ensure all work is completed on time and within budget.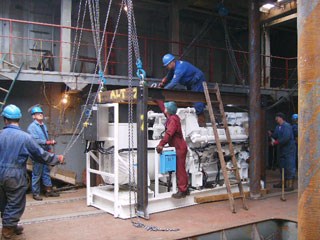 Our workshops are fully equipped with an impressive array of specialised machinery to support our engineers, fabricators, plumbers, electricians, joiners and shipwrights.

Specialised Equipment and Machinery includes Laser Alignment. In addition we have access to Local Specialists Marine Services and Materials.


Our expertise and high quality capabilities have enabled us to successfully undertake modifications to vessels including lengthening, conversions, repairs and extensive refurbishment of vessels such as: Offshore Supply and Standby, Anchor Handling Vessels, Fishing Vessels, Passenger Vessels, Patrol and High Speed Vessels, Tugs and Work Boats, Car and Vehicle Carriers, Container Vessels, Coasters, Dredges Barges and Ferries.

We also provide other services to the drydock and outfit berth such as fresh water, changing rooms, WC, office facilities, telephone, fax and 50hz and 60hz shore supplies.

We are strategically placed on the UK's Eastern Seaboard close to North Sea Oil and Gas installations. Hull is acknowledged as one of the world's most progressive shipping centers and justly described as 'The Gateway to Europe'. We are situated minutes from the centre of Hull with easy access to Motorways, Rail Links and Humberside Airport.