The Dunston name has a long tradition, spanning over 100 years
Providing excellent service on the Humber, we are the first port of call for many local, national and international companies. Our expertise and high quality capabilities have enabled us to successfully undertake modifications to vessels including lengthening, conversions, repairs and extensive refurbishment of vessels such as: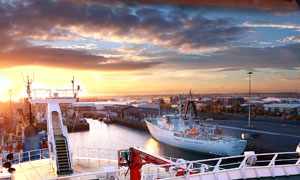 Offshore Supply and Standby
Anchor Handling Vessels
Fishing Vessels
Passenger Vessels
Patrol and High Speed Vessels
Tugs and Work Boats
Car and Vehicle Carriers
Container Vessels
Coasters
Dredges Barges and Ferries
The Gateway to Europe
We are strategically placed on the UK's Eastern Seaboard close to North Sea Oil and Gas installations. Hull is acknowledged as one of the world's most progressive shipping centres and justly described as "The Gateway to Europe". We are situated minutes from the centre of Hull with easy access to Motorways, Rail Links and Humberside Airport.